Coronavirus (COVID-19)
Latest guidance about COVID-19 from NHS Scotland and the Scottish Government, including social distancing and stay at home advice.
Forward Mid are working hard to offer useful information, support and advice during the coronavirus pandemic. We will be updating our website as an information resource from day to day, as new, valuable information and resources becomes available. Our wish is to support disabled people to stay well during this difficult time. If you are aware of a helpful resource or service in Midlothian that is beneficial to disabled people during this challenging period please get in touch via our contact on our website.
Forward Mid wish all disabled citizens safe and healthy time throughout this crisis and beyond.
Take care and stay safe.
Forward Mid
An invitation from CAPS Lothian Voices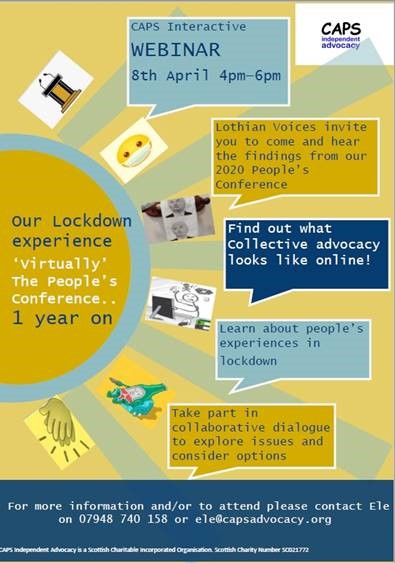 Hello everyone,
CAPS Lothian Voices group are hosting a Zoom Webinar on the 8th of April at 4pm, following their 2020 People's Conference on People's experiences of lockdown.
There will be a presentation of the findings from the conference and an opportunity to have discussion about this.
CAPS Lothian Voices group will also share a short video recording of a collective advocacy meeting, to show how collective advocacy has worked for people during lockdown.
The second half of the webinar will be an open discussion for all participants to ask each other questions, share experiences and explore options for what the 'new normal' might look like in future.
The event is open to everyone and we are looking forward to welcoming a wide variety of people to be part of the session.
If you would like to find out more about this event or would like to register to come along please get in contact with Ele on

07948 740 158 or

ele@capsadvocacy.org
Please feel free to share this with anyone else that you think would be interested.
Best Regards
Ele Davidson
Ele Davidson
Collective Advocacy Development Worker
East Lothian & Midlothian
CAPS Independent Advocacy
Old Stables
Eskmills Park
Station Road
MUSSELBURGH
EH21 7PQ
Phone:

0131 273 5116
web: www.capsadvocacy.org
e-mail:

ele@capsadvocacy.org
follow us on Twitter: @capsadvocacy
follow us on facebook:www.facebook.com/CAPS
CAPS Independent Advocacy is a Scottish Charitable Incorporated Organisation.
Scottish Charity Number SC021772
Welcome to Forward Mid
Forward Mid is a group of active, purposeful, energised, skilled Disabled People working effectively with a team approach.
Our aim is to ensure that disabled people are always treated with dignity and respect as full and active, equal citizens and to secure equality and human rights for disabled people living in Midlothian and beyond.
How we will succeed in achieving our Aims.
By sharing information on issues that affect disabled people.
To do this Forward Mid publishes;
Bi-monthly newsletters,
Newsletter 'specials' e.g. an annual transport newsletter,
a guide to SDS,
The jewel in our information crown, an annually updated directory, which signposts disabled people, people with long-term conditions, carers, health and social work professionals, Midlothian Councillors and MSP's, to a range of useful services and information available to disabled people and carers resident in Midlothian.
By actively promoting the rights of disabled people.
Forward Mid campaign for the rights of physically disabled people living in Midlothian since 2005. Evolving into a Disabled People's Organisation that embraces the philosophy of Independent Living which is defined as: 'all disabled people having the same freedom, choice, dignity and control as other citizens at home, a work and in the community. It does not necessarily mean living by yourself or fending for yourself. It means rights to practical assistance and support to participate in society and live an ordinary life.' We introduced this philosophy to the Joint Physical Disability Planning Group, and it has shaped the Group's action plan over the last 5 years.
By working in partnership with public and private sector organisation's in representing the interests of disabled people.
Forward Mid have representatives on several public-sector groups including Midlothian's Joint Physical Disability Planning Group and Midlothian's Joint Integration Board.
In the private sector Forward Mid is working in partnership with organisations as diverse as Edinburgh College and Dobbies Garden Centre.
In the 3rd sector we have links including those with Midlothian Access panel, Midlothian Local Area Co-ordinators and Lothian Centre for Inclusive Living.