Ageing Well
Ageing Well is a free membership offered to participants after completing 4 weeks of any of the activities in the Ageing Well programme in Midlothian.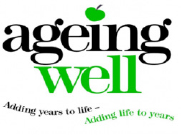 Ageing Well Midlothian Council
What are the benefits?
Opportunity to improve your mental health and well-being by keeping active.
Regular contact with updated information on special events and programme changes as well as an opportunity to assist in planning new activities to further expand our Ageing Well programme.
Options to train as an Ageing well volunteer and encourage others to stay active.
Save £5 on joining Active Golden 65+ tonezone membership.
Discounts and special offers available from various businesses.
Meeting other people with similar interests.
Can I join in any of the activities?
If you are 50 or over you can attend any of the classes/walking groups advertised as part of the Ageing Well project but you are advised to book onto some of the classes which have limited spaces.
All walks are free and everyone is welcome. Most classes charge a fee of £1 on entry unless other wise stated.
Suitable footwear and clothing are required to be worn when participating in activities.
Remember you are the best person to monitor your own physical condition throughout any exercise programme and should any unusual symptoms occur you should immediately stop what you are doing and inform the fitness instructor or trained volunteer of the nature of the symptoms experienced. You may be advised to stop exercising and consult with your doctor before continuing on the ageing well programme.
Ageing Well offer a range of activities such as
Health Walks for the 50+ all health walks are Free
walking (the walks have been devised specifically for older people and are suitable for the beginner)
Gorebridge Tuesdays 13:00 Gorebridge Leisure Centre
Dalkeith Tuesdays 13:30 St Nicholas Church, Dalkeith
Loanhead Wednesdays 18:30 Loanhead Leisure Centre
Penicuik Fridays 09:45 St Mungo's Church Hall
Rosewell Fridays 13:30 Rosewell Parish Church Hall
Bonnyrigg Sundays 14:00 outside Ladbrokes, Polton Street
50+ Keep fit classes cost £2:
Wednesdays 10:30 - 11.30 at Lasswade Centre
Thursdays 10:00 - 11:00 at Gorebridge Leisure Centre
Fridays 11:45 - 12:30 at Mayfield Leisure Centre
Ageing Well in Water:
Thursdays 13:00-14:00 at Newbattle Swimming Pool, Newtongrange
Beginners Yoga £2 in Midlothian Leisue Centres £3 everywhere else:
Mondays 09:30-10:45 at Glencorse Centre, Auchendinny
Mondays 11:00-1215 at Glencorse Centre, Auchendinny
Tuesdays 18:00-19:00 at Lasswade Centre, Bonnyrigg
Wednesdays 18:00-19:15 at Penicuik Town Hall
Fridays 10:15-11:30 at Gorebridge Leisure Centre
Fridays 14:15-15:30 at Newtongrange Leisure Centre
Dance and Sing for the Health of it Individual prices:
Dance classes:
Mondays 11:00 - 12:00 Salsa, slow jive and Le-Roc Loanhead Miners' Club £3
Mondays 12:00 - 13:00 Line Dancing Penicuik Town Hall £1
Mondays 16:30 - 17:30 Line Dancing St Nicholas Church Hall £1
Tuesdays 12:15 - 13:15 Line Dancing Loanhead Leisure Centre Centre Prices
Thursdays 10:30 - 12:00 Ballroom Dancing Dalkeith Masonic Hall £3
Singing Group: Can't help singing
Thursdays 15:00 - 16:30 at Mayfield Leisure Centre Entry fee: £1
New Age Curling:
Tuesdays 10:30 - 12:30 Shottstown Miners Club, Penicuik £2
Thursdays 10:00 - 11:30 Dalkeith Welfare Hall £1
Mondays 10:30 - 12:00 Lasswade Centre, Bonnyrigg £2
Thursdays 14:30 - 16:00 Gorebridge Leisure Centre £2
Pilates Classes Entry Fee between £2 and £4:
Mondays 12:00-13:00 at Lasswade Centre, Bonnyrigg
Mondays 13:00-14:00 at Lasswade Centre, Bonnyrigg
Tuesdays 10:00-11:00 at Ladywood Leisure Centre, Penicuik
Tuesdays 11:00-12:00 at Ladywood Leisure Centre, Penicuik
Fridays 13:00-14:15 at Newtongrange Leisure Centre
Seated exercise/pilates/yoga Entry Fee £2
Suitable if you have limited mobility or long term health conditions.
Mondays 11:00-12:00 at Mayfield Leisure Centre, Mayfield
Tuesdays 13:00-14:00 at Lasswade Centre, Bonnyrigg
Thursdays 13:00-14:00 at Gorebridge Leisure Centre, Gorebridge
Fridays 12:00-13:00 at Newtongrange Leisure Centre, Newtongrange
Tai Chi/Chi gong, Entry Fee £3 or £3.50
Mondays 09:30 - 11:00. St Nicholas Buccleuch Church Hall, Dalkeith (advanced class)
Tuesdays 10:00 - 11:30. Pitcairn Centre, Bonnyrigg
Wednesdays 09:50 - 11:05. Loanhead Miners Club
Wednesdays 18:00 - 19:00. Kings Park Pavilion, Dalkeith
Walking Football
Wednesdays 14:00 - 16:00 at Bayne Memorial Hall, Loanhead
Fridays 10:00 - 12:00 at Ladywood Leisure Centre, Penicuik
Walking Gardeners
Mondays at 10:30 - Midlothian Community Hospital meet in the community garden opposite the hospital main entrance
Looking for something please use this function to Search Forward Mid website