Volunteer Midlothian

Volunteer Midlothian is the first point of contact for anyone who wants to find out more about volunteering in Midlothian. We can offer you a free, confidential and informal appointment where our advisors can help you:
Explore your interests and motivations for volunteering
Make an informed choice about the different opportunities Volunteer Centre Midlothian have available
Search and select information on over 200 local volunteering opportunities
Set up a meeting with the opportunity of your choice or arrange for them to get in touch with you
You can also browse the wide range of opportunities on our website.
Volunteer Midlothian also runs a number of volunteer-led projects which help people develop their skills and confidence. These include: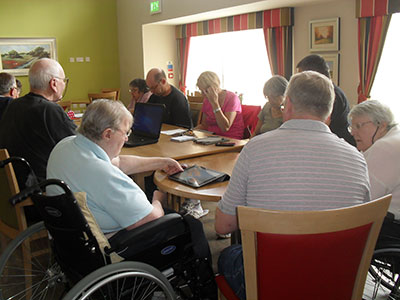 Connect Online – provides IT tuition to groups of socially isolated older people, vulnerable adults and job seekers in a community setting; one-to-one IT tuition in libraries for adults and/or tuition at home for those who are housebound; and iPad classes for groups.
Community Links – provides a one-to-one befriending service for isolated older people/vulnerable adults, including those who are housebound. Activities include shopping, walking, arts/crafts, music, chatting, etc.
Community Links Dementia - activity groups for people with dementia including football reminiscence, walking, and Retelling Our Stories group.
At Home Hub – based in the Assessment for Daily Living (ADL) Flat on Tuesday and Thursday mornings. The hub aims to promote and introduce technologies to support people living with dementia including those with dementia, their carers and family members. Visitors to the hub can access technologies to support health, wellbeing and activities for daily living including telecare. Home visits are also available. For further information or to make an appointment , contact Stephanie Heasman, Project Coordinator Tel:
0131 660 1216 Email:

Stephanie@volunteermidlothian.org.uk
We also offer supported volunteering opportunities for young people aged 14-20 through our Transform Project and outdoor, gardening opportunities for any age group through our Midlothian Growing Together Project.
For more information contact:
Tel:
0131 660 1216
Email:

info@volunteermidlothian.org.uk
Website: www.volunteermidlothian.org.uk
Looking for something please use this function to Search Forward Mid website