V.O.C.A.L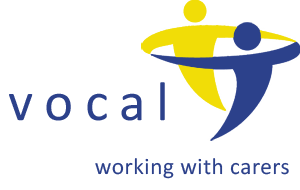 "Voices Of Carers Across the Lothians"
Vocal provide information to unpaid carers.
An unpaid carer is a person who looks after a relative, partner, neighbour or friend who needs support because of age, physical or learning disability, or illness, including mental health problems.
Providing care can range from visiting every day to make sure someone is okay, doing a weekly shop for someone, to being there 24 hours a day and providing personal care. VOCAL provides:
Practical support on issues such as taking on a caring role, accessing services, your health and well-being, welfare benefits and managing household bills, legal matters and specialist services,
Support to take a break from your caring role,
Support to complete an Adult Carer Support Plan,
Access to training and events and social groups,
Counselling,
Support if you are affected by someone else's drug or alcohol use.
What is an Adult Carer Support Plan
You can ask social work or VOCAL for an Adult Carer Support Plan. The plan sets out any needs you have as a carer and how they will be met. Any carer can request an ACSP, regardless of the age of the person they care for, number of hours, type of caring, or regularity of their caring role.
More information on Adult Carer Support Plans can be found in the leaflet 'What to expect when you make an adult carer support plan' which is available from VOCAL Midlothian.
Contact Details:
VOCAL Midlothian, Carers Centre,
30/1 Hardengreen Estate,
Eskbank EH22 3NX.
www.vocal.org.uk The office is open Monday to Friday 9 am – 5 pm.
Tel:
0131-663 6869
Email:

midlothian@vocal.org.uk
Website: www.vocal.org.uk/midlothian
Website: www.weebreaks.org

Facebook.com/MidlothianCarers
Looking for something please use this function to Search Forward Mid website