V.O.C.A.L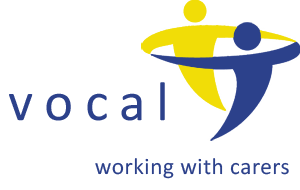 Vocal stands for "Voices Of Carers Across the Lothians"
Vocal provide information to unpaid carers.
An unpaid carer is a person who looks after a relative, partner, neighbour or friend who needs support because of age, physical or learning disability, or illness, including mental health problems.
Providing care can range from visiting every day to make sure someone is okay, doing a weekly shop for someone, to being there 24 hours a day and providing personal care.
Provides information on a wide range of topics including how to access services, your rights as an unpaid carer, and benefits
Provides information about respite and holidays.
Has access to training and events to support you in your caring role
Has access to counselling in Dalkeith.
Can discuss a Carer Assessment to help identify what your needs are as an unpaid carer
Is a listening ear for when caring situations become difficult.
Support for young carers
Carers and Carer's Assessments
If you are caring for a disabled child or additional support needs you have a right to an assessment of your needs. This can be arranged by contacting the Children and Families team. Young Carers
If you are a young carer you can ask for an assessment of your needs. This assessment will look at how caring for someone affects you now and how it might affect your future. An assessment could help you get some support. You might be helping to look after:
Your mother or Father
Your brother or sister
Someone with an illness or disability
Someone with an alcohol or drug problem
If you would like to discuss your situation please contact Dalkeith Social Work Centre on Tel: 0131 271 3860
Young Carers website www.children1st.org.uk
What is a Carer's Assessment?
Carers who provide unpaid care on a regular basis to an adult or child with a frailty, illness and/or disability have a right to an assessment of their needs.
You can ask social work or health services for a Carer's Assessment. The assessment will look at your needs in relation to the person you care for. We will listen to your views on services that will help you care.
Alternatively you can carry out your own assessment of need. You can download a Carers Assessment Form, or pick one up from your local social work office, or from Vocal Carers Centre.
Contact Details:
VOCAL Midlothian,
Carers Centre,
30/1 Hardengreen Estate,
Eskbank EH22 3NX.
The office is open Monday to Friday 9am – 5pm.
www.vocal.org.uk
Tel:
0131-663 6869
or Email:

midlothian@vocal.org.uk
Carers Scotland
Carers Scotland is the voice of carers, it is the Scottish national office of Carers UK and is the only carer-led organisation working for all carers
The Cottage,
21 Pearce Street,
Glasgow, G51 3UT
www.carersuk.org/scotland
Tel:
0141 445 3070
Children and Families
11 St Andrew Street,
Dalkeith,
Midlothian, EH22 1AL
www.midlothian.gov.uk
Tel:
0131 271 3860
swc&fenquiries@midlothian.gov.uk
Looking for something please use this function to Search Forward mid website