Transport
Methods of public transport to travel around Midlothian.
Bus Service
Midlothian is served by lothianbuses.com, www.firstgroup.com, Perryman's Buses Stagecoach, LCTS and National Express.
D.D.A. legislation requires single-deck buses to be low-floor and accessible by wheelchair users by 2015, double-decker buses by 2017 and coaches by 2020. In Midlothian, Lothian Buses and LCTS are the only operators that have achieved 100% low-floor fleets well ahead of the legal deadline. See the Midlothian Travelmap [available at all libraries] for the most up-to-date accessibility listed by bus route www.firstgroup.com/
All Lothian buses can accept one wheelchair on all buses, lothianbuses.com or email Midlothian council Public transport unit at ptu@midlothian.gov.uk Please check with individual bus companies for information when travelling by wheelchair. Most bus companies now have wheelchair access on all thier buses, sometimes buses breakdown and maybe replaced with an older stock bus that is not wheelchair accessible. Normally buses can only carry one wheelchair.
Community Bus Service
The Community Bus Service provides a link to local shopping centres from communities less well served by public transport.
Service R1 operates on Thursdays route Dalkeith, Dalkeith Morrisons Eskbank Stn & Tesco, Bonnyrigg Market, Carrington, Temple, Gorebridge, Newtonload Toll, Bonnyrigg Market, Bonnyrigg Co-op, Lasswade Centre, Bonnyrigg Market, Eskbank Stn & Tesco, Lasswade Road, Dalkeith.
Service R2 operates on Thursdays route Dalkeith, Dalkeith Morrisons, Lothianbridge, Newtongrange, Gowkshill, Upper Gorebridge, Newbyres Village, Newtonload Toll, Bonnyrigg Market, Eskbank Stn & Tesco, Dalkeith Morrisons, Dalkeith
Service R3 operates on Thursdays route Dalkeith, Dalkeith Morrisons, Lasswade Road, Danderhall, Newton Village, Millerhill, Old Craighall, Asda, The Jewel
Service R4 operates on Mondays route Dalkeith, Dalkeith Morrisons, Lasswade Road, Lasswade Village, Mavisbank, Burghlee Crescent, Park Avenue, Gaynor Avenue, Loanhead Library, Straiton Retail Park, Straiton Sainsbury's, Straiton Asda
Service R5 operates on Mondays route Carrington, Temple, Gorebridge, Newtonloan Toll, Bonnyrigg, Lasswade Village, Loanhead, Straiton Retail Park, Straiton Asda, Straiton Sainsbury's
If you are a wheelchair user, it may be possible to arrange for the Community Bus to pick you up at or closer to your door. If you require this service, you must ring LCTS by Thursday for the following Monday services, or by Tuesday for the following Thursday services. Tel:
0131 663 0176. The Community Bus Service is provided by LCTS from its Dalkeith depot. LCTS is financially supported by Midlothian Council
Dial-A-Bus
Dial-A-Bus is provided by HcL(formerly Handicabs (Lothian) Ltd) and is financially supported by Midlothian Council. To register to use the service, collect an application form from any Midlothian library and post the completed form to the Edinburgh office at 58 Canaan Lane, or Tel:
0131 447 1718 or visit the Dial-A-Bus website at www.hcltransport.org.uk
Dial-A-Ride
Dial-A-Ride provides a seven days per week door-to-door transport service for people with limited mobility who cannot manage to travel by standard buses. Dial-A-Ride can also help those who have limited access to public and/or private transport. The Dial-A-Ride service is provided by HcL and is financially supported by Midlothian Council. To register to use the service, collect an application form from any Midlothian library and post the completed form to the Edinburgh office at 58 Canaan Lane, or Tel:
0131 447 9949 or visit the Dial-A-Ride website at www.hcltransport.org.uk
Once registered with HcL, you can call the Dial-A-Ride office, Edinburgh Tel:
0131 447 9949 to make your first booking. You can make no more than one advanced booking (for the day after tomorrow or beyond). You can try for as many bookings as you wish for trips on the same day or the following day. However, your late bookings will only be accepted if there are suitable gaps in the Dial-A-Ride schedule to take on more journeys
The Dial-A-Ride vehicles are specially adapted to carry combinations of wheelchair users and other passengers safely and comfortably. The Dial-A-Ride drivers are trained to provide assistance where necessary - do not be afraid to ask.
There is a set for the first mile, and increase per set distance thereafter. Prices are subject to periodic change.
Additional charges per passengers when accompanying a full-fare paying passenger on the same journey. One genuine escort may travel free. Additional charges may be added if the Dial-A-Ride vehicle is asked to wait longer than anticipated when the booking was first made. There is no reduction for children travelling - standard fares apply.
Special tariffs will apply if the destination is out with the Lothians - contact the Edinburgh office on Tel:
0131 447 9949 or Email to admin@handicabs.org.uk to ask for a quote to travel out with the local area.
A cancellation fee may be applied if bookings are cancelled without due notice. Check with HcL when booking.
Taxis and private hire cars
When ordering a Taxi or Mini Cab please make the company aware of any special requirements you need for the journey, Taxi's and Mini cabs are operated by individuals and size or type of vehicle must be agreed before being dispatched. If using taxi cards please check with Taxi Company to ensure they are accepted.
If you are wheelchair user and your wheelchair exceeds 700 millimetres wide or 27 inches wide and 1200 millimetres long 47 inches long or has an extended headrest please check with the Taxi Company to ensure you and your wheelchair can be carried on booking your taxi.
The Borders Railway Project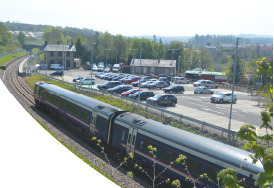 It has been over half a century since there has been a working railway in Midlothian to Edinburgh or the Scottish Borders.
The railway operates a half hourly service between Tweedbank and Edinburgh Waverley. If you travel to Edinburgh you will find connections to the rest of the rail network.
Tickets can be bought in advance from www.scotrail.co.uk, by calling the ScotRail Telesales team on 0344 811 0141 between 0700 and 2200, seven days a week.
Disabled Assistance If you would benefit from a little extra help when using the trains, you can arrange disabled assistance by advising ScotRail at least 24 hours in advance by:
Calling 0800 912 2901
Calling Textphone 18001 0800 912 2901 if you are hard of hearing
Completing an online assistance request form on www.scotrail.co.uk/form/assisted-travel
Making arrangements with a member of staff at a staffed railway station [only Edinburgh Waverley on this line]
Wheelchair users
Edinburgh Waverley is the only staffed station on the Borders' Railway line, in order to provide disabled assistance at all other stations from Brunstane to Tweedbank, there will be a set of ramps on each train managed by the train conductor. To ensure you can travel please complete the assistance request form www.scotrail.co.uk/form/assisted-travel. The wheelchair accommodation on trains is restricted to standard wheelchairs not exceeding 70cm wide, 120cm long and with a combined weight of less than 300 kilograms of user and wheelchair. These dimensions are in accordance with Interoperability PRM-TSI legislation. (Technical specifications for interoperability relating to accessibility of the Union's rail system for persons with disabilities and persons with reduced mobility).
If you hold a bus pass with an "eye" symbol on the front, then you are eligible to travel free on trains throughout Scotland, including journeys starting/ending at the four Midlothian stations. If you hold a valid Midlothian Taxicard, then you can present this for free travel by train but only within the Edinburgh and three Lothian's area including Shawfair, Eskbank, Newtongrange and Gorebridge. The Midlothian Taxicard is not valid for travel south of Gorebridge.
In both cases, you do not need to obtain a rail ticket from the station travel office. Show the card at the gate barrier. Do not attempt to enter via one of the automatic gates. Do not try to push your NEC or Midlothian Taxicard into the slot on the automatic gates – it will damage your card and may put the automatic gate out of action for other travellers. Instead, approach one of the staff at the manually controlled gate and show your card. Where there is no gate, show the card to the conductor on the train.
Scottish Blind Scheme
This scheme was created in the year 2000 and applies to blind persons resident anywhere in Scotland including Midlothian. Cardholders enjoy free travel on buses, trains, ferries, Glasgow Subway and Edinburgh Trams for themselves. There is free travel for a companion on buses [denoted by the two symbols of an eye and a "+1" on the card], but this companion entitlement does not extend to the other modes. SBS is financially supported by the 32 Scottish local authorities, but as far as the cardholder is concerned, the scheme is co-produced with the Scottish Government using their National Entitlement Card [NEC]. Application forms are available at all Midlothian libraries where completed forms must be handed in by the applicant in person [part of the process of verification is that the face of the applicant and the photo image supplied must be cross-checked by the librarian before the application is accepted].
Disabled Persons Railcard
If you have a disability that makes travelling by train difficult you might qualify for the Disabled Persons Railcard. The Disabled Persons Railcard allows you to get 1/3 off most rail fares throughout Great Britain. If you're travelling with an adult companion they also can get 1/3 off their rail fare. It costs £20 for a one-year Railcard. £54 for a three-year Railcard.
You can apply online at www.disabledpersons-railcard.co.uk/
Looking for something please use this function to Search Forward mid website