National Key Scheme (Radar Key)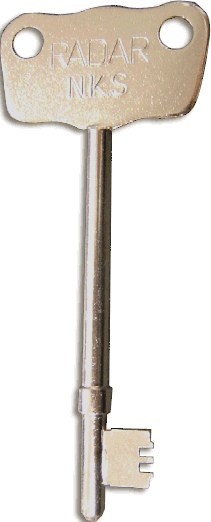 Opening doors to independent living
The National Key Scheme (NKS) offers disabled people independent access to locked public toilets around the country. Toilets fitted with National Key Scheme (NKS) locks can now be found in shopping centres, pubs, cafés, department stores, bus and train stations and many other locations in most parts of the country. Alternative costs: With VAT - £5.40 For more information please visit https://www.disabilityrightsuk.org/shop/radar-key
In the past the Radar Kye Scheme ran checks to ensure only disabled people could buy these keys. Now they can be bought on Amazon at www.amazon.co.uk, Age UK at www.ageukincontinence.co.uk/, on line key cutting at www.lockshopdirect.co.uk/products/disabled-toilet-key-to-suit-radar-precut-42300/ and also at www.radarkeys.org/.
The checks have fallen by the wayside, Midlothian only has one radar key site the list on the nks.directenquiries.com and select find accessible toilets/ then RADAR National Key Scheme Toilets :
Homebase Straiton (Now shut)
Dalkeith Arts Centre (When open)
Wetherspoon Blacksmith's Forge, Dalkeith
Edinburgh College have brought in the Radar Key sceme but are not listed on the NKS Directory, so they maybe for students of Edinburgh college. There are other disabled toilets around in Midlothian.
If travelling to England you can check nks.directenquiries.com and see if you would benefit from purchasing one.
Forward Mid are also selling the Radar Key at cost price:
They can be bought at cost price from:
MVA
4-6 White Hart Street
Dalkeith
EH22 1AE
Looking for something please use this function to Search Forward Mid website