NHS 24
When should I call NHS 24?

If your GP surgery is closed and you are too ill to wait until it re-opens, phone NHS 24 on
111 (New number) or Textphone:

111 (New number). If you phone us, we will ask you where you are phoning from and why you have phoned. This will help us make sure you get the right help. When we know why you have phoned we will put you through to a health professional. They will talk to you about your symptoms and tell you what care they think you need. They might suggest that you treat yourself at home, that you see a doctor or another health professional or, in some cases, they might call an ambulance for you.
If you think your life is in danger and you need an emergency ambulance, always phone
999. If you are looking for urgent advice on caring for yourself, you can visit www.nhs24.com and use the NHS Self-Help Guide which will help to direct you to the right care.
When you call NHS 24
You will hear a message explaining that all calls are recorded as part of your patient record and may be used anonymously for research purposes.
Your call will then be answered by a highly trained call handler. The call handler will introduce themselves and ask you clear questions that are easy to follow. We do not have access to your GP medical record, so the details we ask for are important in case we need to get you help quickly or we need to call you back. This part of the call will take a couple of minutes.
You will be asked to provide the following details about yourself or the person you are calling for:
Name;
Date of birth;
Home address or the address where you are calling from;
GP's name and practice.
You will then be asked some questions about the reason for your call. Then you will be passed to the most appropriate person.
If a doctors has to attend.
Most records are now stored on the NHS computer database and can be accessed by the doctor that is attending you. If a doctor does have to attend you please be patient as your records may be long and they may need to be read more than once.
What pharmacies provide:
If you are registered with a GP in Scotland your community pharmacist can provide a minor ailment service. Your pharmacist can offer advice and can generate the paperwork and supply you with a limited source of medication.
Many pharmacies are open when your GP surgery is shut (evenings, weekends and on public holidays). You don't even need to make an appointment to speak to your local pharmacist.
Your local pharmacist provides lots of services and can help if; you need help with a minor ailment service, this allows the doctor to see more important cases, please ask your pharmacy for a full list of medical conditions that they can treat before you go to see a doctor. Some of the things a pharmacist can treat are: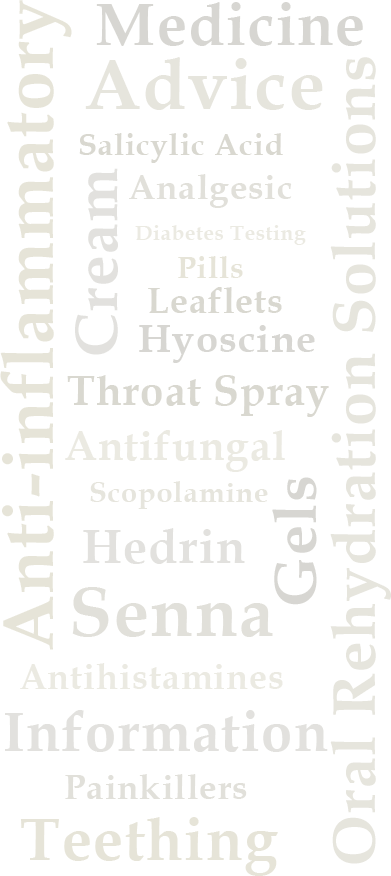 Acne,
Athlete's foot,
Backache,
Certain allergies,
Colds,
Coldsores,
Constipation,
Coughs,
Diarrhoea,
Earache,
Eczema,
Eye infections,
Hay fever,
Headache,
Head lice,
Indigestion,
Mouth ulcers,
Nasal congestion,
Pain including period pain,
Sore throat,
teething advice,
Thrush,
Travel sickness,
Warts and verrucas.
This is just a sample please check with your pharmacy for a full list.
If you think that someone's life is at risk you should call
999 right away.
Looking for something please use this function to Search Forward Mid website