National Entitlement Card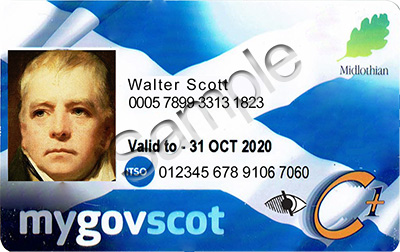 The national entitlement card gives 60+ and disabled people free bus travel throughout Scotland. Application forms are available at all Midlothian libraries – completed forms including a colour passport-style photo must be taken by the applicant to any Midlothian library for processing. The verification system requires the librarian to confirm that the photo submitted is a true likeness of the applicant – if the application form is handed in by anyone other than the applicant, it will be rejected.

Your bus pass is printed in Hull, England and sent direct to your home address.
On the front of the card will be your name and card number, your photo, the oakleaf logo of Midlothian Council and the expiry date. This card is not transferable and can only be used by the card holder.
Various symbols appear on the lower right side of the card.
All cards show a large orange "C" symbol.


A "+1" symbol tells the driver that you are entitled to have a companion travel free with you on your bus journey.


The "eye symbol" indicates that the holder is blind or partially sighted and is entitled to the free train travel concessions of the Scottish Blind Scheme in addition to free bus travel.
Local buses that accept this card are: Borders Buses, East Coast Buses, Lothian Buses, LCTS, Prentice Coaches of Haddington and Stagecoach. Over 95% of buses are adapted for wheelchair Carriage, most buses can carry only one wheelchair, not all bus stops are suitable for wheelchair users, it would be advisable to phone before travelling to avoid disappointment.
Citylink
0871 266 33 33
Megabus
0900 1600 900
National Express
08717 818178
Looking for something please use this function to Search Forward Mid website