Midlothian Libraries
With nine branches and a mobile, all wheelchair accessible, wherever you live in Midlothian, a library is never far away. Membership is completely free and gives those joining access to the full range of library services, which include:
Our complete collection of fiction and non-fiction books. If the book you want isn't on the shelf at your local branch, free requests mean you can get it from anywhere in Midlothian. As well as standard print copies, we have thousands of books in large print and on audio CD.
Music CDs and DVDs to keep you entertained, amused, or help you learn.
Membership gives free access to a wide range of online resources. These include e-books and e-audio titles, online comics, and a vast range of online newspapers and magazines. You can download these from home using your membership card – and as there are no overdue fines for online material, you don't have to worry about forgetting to return them.
A wide range of free workshops, activities and events take place every week, from talks given by authors to knitting groups and storytelling sessions amongst much more. You can see what is coming up by checking the Facebook page www.facebook.com/MidlothianLibraries or telephone your local library.
Midlothian Travel information can be found at every library, including bus timetables, entitlement card application forms, and blue badge application forms. Libraries can process completed bus pass applications for the over 60s and disabled, and if you have lost your card you can report it at your library. At Newbattle Library Blue Badge forms can be handed in and payment made.
Free use of computers and access to the internet in all branches, including free WiFi.
Hearing Aid battery collection points in all libraries. Hearing Aid Maintenance Clinic at Dalkeith Library, first Wednesday of every month, 10.30 am -11.30 am
Information about the local area, including local groups and services.
If you can't leave your house and visit the library because you have mobility problems the library can make arrangements to get books to you via our book delivery volunteer network. Email

: home.delivery@midlogthian.gov.uk to find out how to access the Home Delivery Service.
Midlothian Libraries
Dalkeith Library,
2 White Hart Street,
Dalkeith EH22 1AE
Tel:
0131 663 2083
Email:

dalkeith.library@midlothian.gov.uk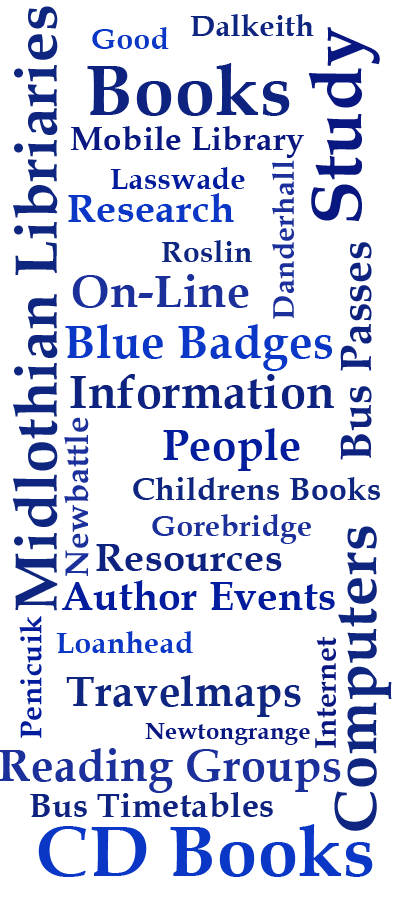 Danderhall Library,
1a Campview,
Danderhall, EH22 1QB
Tel:
0131 663 9293
Email:

danderhall.library@midlothian.gov.uk
Gorebridge Library,
98 Hunterfield Road
Gorebridge, EH23 4TT
Tel:
01875 820 630
Email:

gorebridge.library@midlothian.gov.uk
Lasswade Library,
19 Eskdale Drive,
Bonnyrigg, EH19 2LA
Tel:
0131 271 4534
Email:

lasswade.library@midlothian.gov.uk
Loanhead Library,
The Loanhead Centre
Loanhead, EH20 9LA
Tel:
0131 444 9032
Email:

loanhead.library@midlothian.gov.uk
Newbattle Library,
1 Newbattle Way,
Easthouse EH22 4SX
Tel:
0131 561 6745
Email:

newbattle.library@midlothian.gov.uk
Newtongrange Library,
St Davids, Newtongrange, EH22 4LG
Tel:
0131 663 1816
Email:

newtongrange.library@midlothian.gov.uk
Penicuik Centre Library,
Carlops Road,
Penicuik EH26 9EP
Tel:
01968 664 050
Email:

penicuik.library@midlothian.gov.uk
Roslin Library,
9a Main Street,
Roslin, EH25 9LD
Tel:
0131 448 2781
Email:

Roslin.Library@midlothian.gov.uk
Looking for something please use this function to Search Forward Mid website