Midlothian Libraries are for everyone
Midlothian Libraries are for everyone, they are free and local. There aren't many services which can make that claim.
Are you one of over 32,000 people in Midlothian who are members of the Midlothian Library Service? If you are, do you make the most of your Midlothian library membership? If you aren't a member see what you are missing:
Lots of free books on any subject you can think of.
Books in large print if you have a visual impairment.
Books on CD or tape if you have a visual impairment or find it difficult to hold a book.
Music CDs and DVD's to keep you entertained, amused or help you learn.
A wide range of newspapers and magazines.
Reliable and accurate information either in the library or available through online subscriptions accessible from the library website.
Most Midlothian libraries have a reading group which meets monthly.
Author events and other activities are held on a regular basis.
Midlothian Travel Team leaflet carousels in each library [except Roslin]. Carousels hold bus timetables, Travelmaps, Application forms for Blue Badges, Taxicards, Bus passes – and other transport items.
Libraries process completed bus pass applications [over 60s and disabled].
Free use of computers and access to the internet in all libraries, all with assistive technology if required.
Special help.Free one to one help with computers from a Live IT Sidekick volunteer who will show you exactly what you want to learn.
If you can't leave your house and visit the library because of a disability the library will come to you. Tel: 0131 271 3980 and ask about the Home Delivery Service.
Most of all the Midlothian Library Service has friendly and helpful staff who are there to make your visit or contact with the library as pleasant and productive as possible.
Midlothian library service is also online where you can register check for a books availability and also reserve a book, you can also track your loans to ensure they are returned at the correct time. Visit www.midlothian.gov.uk/libraries for more information
Midlothian Libraries
Dalkeith Library,
2 White Hart Street,
Dalkeith EH22 1AE
Tel:
0131 663 2083
Email:

dalkeith.library@midlothian.gov.uk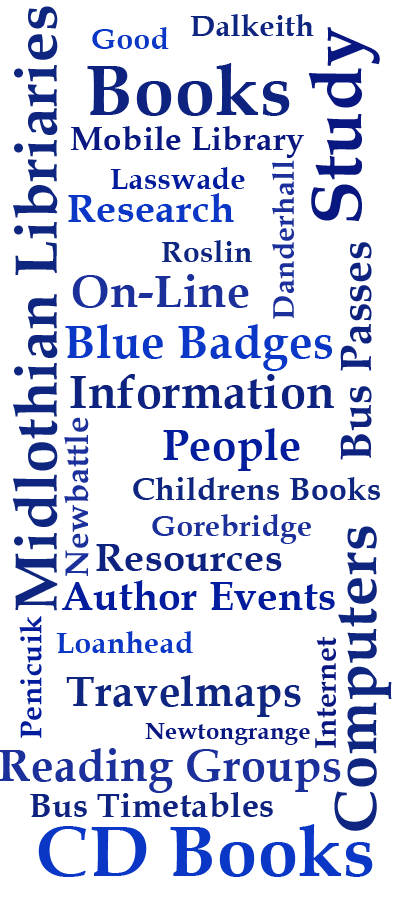 Danderhall Library,
1a Campview,
Danderhall, EH22 1QB
Tel:
0131 663 9293
Email:

danderhall.library@midlothian.gov.uk
Gorebridge Library,
98 Hunterfield Road
Gorebridge, EH23 4TT
Tel:
01875 820 630
Email:

gorebridge.library@midlothian.gov.uk
Lasswade Library,
19 Eskdale Drive,
Bonnyrigg, EH19 2LA
Tel:
0131 271 4534
Email:

lasswade.library@midlothian.gov.uk
Loanhead Library,
The Loanhead Centre
Loanhead, EH20 9LA
Tel:
0131 444 9032
Email:

loanhead.library@midlothian.gov.uk
Mayfield Library,
1 Stone Avenue,
Dalkeith, EH22 5PD
Tel:
0131 663 2126
Email:

mayfield.library@midlothian.gov.uk
Newtongrange Library,
St Davids, Newtongrange, EH22 4LG
Tel:
0131 663 1816
Email:

newtongrange.library@midlothian.gov.uk
Penicuik Centre Library,
Carlops Road,
Penicuik EH26 9EP
Tel:
01968 664 050
Email:

penicuik.library@midlothian.gov.uk
Roslin Library,
9a Main Street,
Roslin, EH25 9LD
Tel:
0131 448 2781
Email:

library.hq@midlothian.gov.uk
Looking for something please use this function to Search Forward Mid website