Midlothian Disability Access Panel
Do you have a disability?
Are you a carer?
Are you affected by disability?
Would you like more information about disability?
Do you want a real say in access matters in Midlothian?
Would you like to be involved in decisions that affect you?
Do you think you are given enough thought and consideration by those who make the decisions?
Do you want your ideas to be heard and understood?
Then join Midlothian Disability Access Panel and have your voice heard.
Contact: Mike Harrison, Chair;
Tel:
0131 448 0930
Email:

chairman@MidDAP.org.uk
Contact: Karl Vanters, Secretary to the Panel
Tel:

0790 305 9074 or
Email:

karl.vanters@midlothian.gov.uk

So what is an Access Panel?
Local groups of volunteers, including disabled people, carers and people with genuine interest in access who work for better access for disabled people in their local community. Our panel is involved in many of the following:
Reviewing building standards/ planning applications
Being the first point of contact with local authorities and other public bodies on access issues.
We meet locally within Midlothian 3 to 4 times a year.
Publish Access guides and leaflets and posters to raise awareness
What is expected of you as a volunteer?
You are not obliged to serve on the committee you can simply be a member of the panel and become involved when something interests you.
You can become a member of the panel committee.
Give the time and commitment that you are comfortable with and do not overload yourself.
For details of meetings and more information please visit www.middap.org.uk/ Most of all enjoy your time on the panel.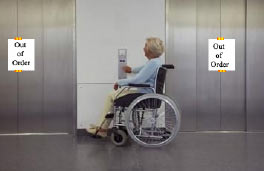 Midlothian Access Guide
The first few entries (all in Penicuik) are now on line. You can select a particular business or a type (cafés, undertakers etc) and it will tell you about access arrangements (steps, doors, hearing loops etc) to help you plan your visits. Over the next year it will be extended to other towns and a wider range of premises.
www.middap.org.uk/ and follow the menu to 'Access Guide'
Looking for something please use this function to Search Forward Mid website