Midlothian Community Hospital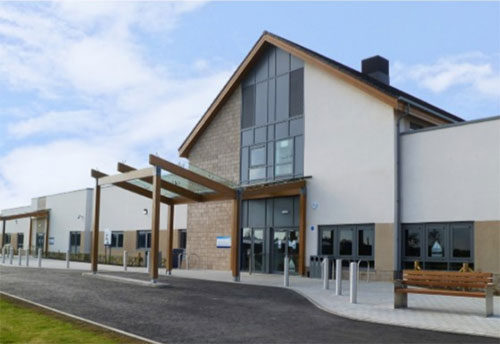 Midlothian Community Hospital provides many important health care services for the area. It is located at Mayshade South, Bonnyrigg (close to the A7 Hardengreen roundabout). The Community Hospital allows people to receive more services and have better facilities at the heart of their community, without having to travel to Edinburgh. It has a free car park including 20 disabled parking bays.
There is a cafe in the hospital which is open to the public serving hot drinks and food. The hospital also has a community garden, which is managed by the Cyrenians and local volunteers. Anyone is welcome to visit the garden; produce from the garden is often available for sale at the hospital reception. If you would like to volunteer at the garden please contact:
Email:

MCHGardens@cyrenians.scot
or Tel:
07772 886746.
Midlothian Community Hospital does not have an accident and emergency department. The nearest A&E department is at the Royal Infirmary of Edinburgh or, for children under 13, the Royal Hospital for Sick Children.
Inpatient services
All the inpatient services at Midlothian Community Hospital are for older people. Midlothian Community Hospital has 84 beds in total. All beds are in single rooms, with the exception of a 4-bed bay for patients who need close short-term observation.
The inpatient services that are provided at the hospital are:
Admission and assessment services for older people with mental health problems,
Continuing care for older people with mental health problems,
Continuing care for frail and elderly people,
Rehabilitation services for older people,
Physiotherapy and Occupational Therapy.
Outpatient Services
There is a range of outpatient and community services provided at Midlothian Community Hospital for patients who have been referred by their GP or other specialist. Midlothian Health and Social Care Partnership tries to encourage services to hold clinics in Midlothian that would otherwise be difficult to get to, or that meet a local need. A list of outpatient services at Midlothian Community Hospital and other Midlothian venues is provided on page 24.
Link
Out-of-hours GP services
Midlothian Community Hospital is also the base for the out-of-hours GP service, providing care for conditions that are not life-threatening, but cannot wait for the doctor's surgery to open. To access out of hours GP services call NHS24 on
111.
Looking for something please use this function to Search Forward Mid website