Help with Housing Adaptations
Midlothian Council Community Care Service offers assessments to help people with disabilities to be as independent as possible in daily living tasks at home.
The outcome of the assessment may lead to a recommendation for a major adaptation. Assessments for these are normally provided by Community Care Occupational Therapists. The aim is to support people where, without a major adaptation to their property, the person would be unable to continue to live at home safely or independently.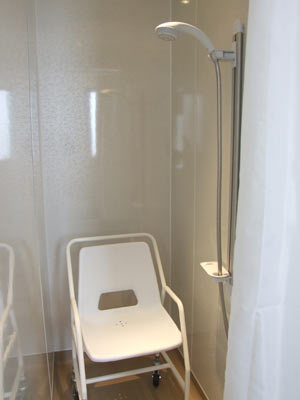 A major adaptation could be:
Replacing the bath with a walk in shower
A stairlift
A ramp for wheelchair access
Fitting lower work surfaces to make the kitchen more manageable
The recommendation for any adaptation relates to the disabled person's current and long-term needs and links to the anticipated course of their impairment. The needs of the carers will also be considered. Decisions about whether to support an adaptation will take into account the benefits to the disabled person's independence and support to carers over the long term. Sometimes an adaptation to your home is not feasible and the only way to meet your long term needs would be to move to another property. The Occupational Therapist will assist you to explore all your options.
Funding
Funding for major adaptations depends on the ownership of the home. If the disabled person is an owner occupier, or tenant in private rented property, a Home Improvement Grant may be available towards the cost of an adaptation.
If the person lives in council or housing association property the adaptation will normally be funded by the landlord.
The minimum home improvement grant you will get is 80% of the total cost. If you are on certain benefits then a grant could be 100%.
Before an application for a home improvement grant is submitted, an Occupational Therapist from the Community Care Service must be consulted and agree the work, and written documentation obtained identifying the relevant work.
This process is further outlined in the Scheme of Assistance available from Environmental Health and available on the Midlothian Council website. This downlad gas been removed please search www.midlothian.gov.uk/ for more information
Contact Midlothian Council:
If you would like an appointment to discuss your situation or about a relative or friend,
contact us on Tel:
0131 271 3900 during office hours: Monday - Thursday 9:00-5:00 Friday 9:00-3:30
Adults and Community Care (Adult Services)
Fairfield House,
8 Lothian Road,
Dalkeith,
EH22 3AA
Tel:
0131-271-3900
E-mail: swccenquiries@midlothian.gov.uk
You can get more information from:
Looking for something please use this function to Search Forward Mid website