Directory 2018 Contents T to Z and appendix
Forward Mid Directory 2018, The links above open the pages selected. we hope that you find it enjoyable and useful. If you think Forward Mid has missed something out of this directory we apologise for this please contact us so we can make sure it is included in the next directory. Please inform Forward Mid in one of these three ways:
Email:

eric.johnstone@mvacvs.org.uk
Phone Eric Johnstone on
0131-663-9471.
If you wish you can post the story to Forward Mid send it to:
Eric Johnstone,
Forward Mid,
4-6 White Hart Street,
Dalkeith,
EH22 1AE.
If you have any trouble opening any newsletter please contact us so we may rectify the fault.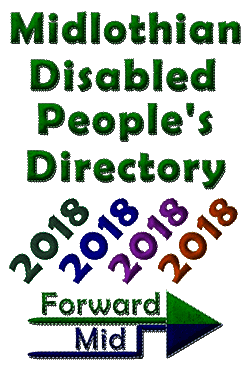 To download Forward Mid Directory 2018 on this web site you may be required to use Adobe PDF reader, if you require Adobe reader it can be downloaded for free on this link

If you require pages to be read out Forward Mid are pleased to direct you to a selection of PDF readers for PDF format documents from 3d2f.com, free PDF aloud download. Iain the website developer has personally checked the PDF document using www.naturalreaders.com. To use Natural Soft, open the PDF file, Open natural Soft screen reader, select floating toolbar, select PDF document and press control and A together and select play on Natural Soft. Listen
The Directory is available as an Electronic Version, the size on this version is suitable for Smart phones and tablets
Download Directory 2018, PDF file size (3,527kb) it will open in a new tab
The Directory is available if you wish to print a copy for personal use. This version is in Print quality pdf Download Directory 2018 Print Quality, PDF file size (8,427kb) it will open in a new tab
To save a copy of the Directory 2016 click to your own computer click on the floppy disk symbol, to find the floppy disk symbol 1.position mouse near the bottom right hand corner of your screen and it should appear, 2, Position mouse top left of the reading pane and it should appear

and choose where to save it to.
Other controls

from left to right
1. Fit to reading pane.
2. Fit to screen.
3. Make smaller.
4. Make Larger up to 500%
5. Save to.
6.Print your own copy, must be connected to printer.
Looking for something please use this function to Search Forward Mid website