Cyrenians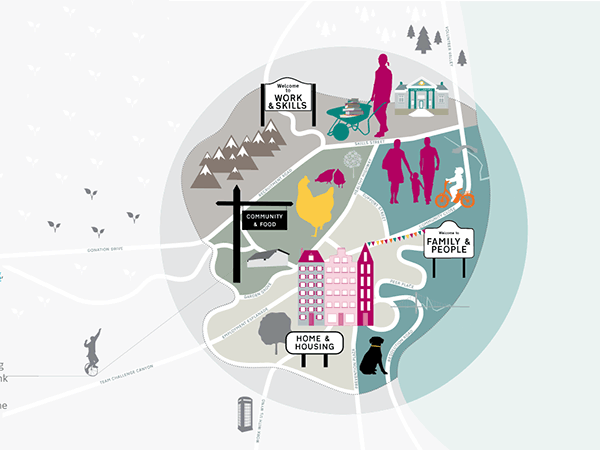 For nearly 50 years, Cyrenians has served those on the edge, working with the homeless and vulnerable to transform their lives by beginning with their story, helping them believe that they can change their lives, and walking with them as they lead their own transformation. The name Cyrenians comes from the biblical story of Simon the Cyrene but Cyrenians was founded as and remains a secular organisation.
Cyrenians Vision is an inclusive society in which everyone has the opportunities to live valued and fulfilled lives. Cyrenians work to make that vision a reality by Cyrenians Mission to support people excluded from family, home, work or community on their life journey.
Cyrenians way of work is built on Cyrenians four core values:
Compassion:

Cyrenians believe that everyone should have the chance to change, no matter how long that might take.

Respect:

Cyrenians believe in tolerance, acceptance, valuing diversity and treating each other as equals.

Integrity:

Cyrenians are committed to the highest quality of work, grounded in honesty, generosity, sincerity and professionalism.

Innovation:

Cyrenians are willing to take risks, challenge convention and be very creative in Cyrenians search for new ways of working, in particular by taking account of the environmental impact of Cyrenians decisions.
How Cyrenians work
Cyrenians aim to offer consistently excellent service delivery across all locations and activities. Cyrenians also want to provide clarity for purchasers that Cyrenians services are effective, including evidence of the difference made in the lives of the people Cyrenians support. Cyrenians have adopted a way of working that includes, in particular, training in the interpersonal elements of building 1:1 relationships. Cyrenians Key Work can be defined by:
Cyrenians attitude Cyrenians treat people with the respect of equals (adult to adult). Cyrenians respond to the whole person rather than just the evident problems.
Cyrenians style Cyrenians work with people, preferring where possible to work 'at the shoulder' rather than from the other side of a desk. Cyrenians want to create independence, not dependency.
Cyrenians practice Cyrenians are flexible, tolerant and understanding. Cyrenians are tenacious in the offer of help and, if Cyrenians can't help; Cyrenians will guide people to those who can.
Working predominantly in Edinburgh, Lothians, Falkirk, Borders and Stirling but also with Scotland-wide services, Cyrenians work is organised around four targeted areas of service:
Family and People
Home and Housing
Work and Skills
Community and Food
Cyrenians is a Scottish Charitable Incorporated Organisation (SCIO), registered charity SC011052
Contact Cyrenians
57 Albion Road
Edinburgh
EH7 5QY
Tel:
0131 475 2354 or Fax:

0131 475 2355
Email:

admin@cyrenians.scot
Website:
cyrenians.scot/
Looking for something please use this function to Search Forward Mid website